Discover more from penknife
Where the mighty hungry come for research, recipes, and bite-sized bits of food history.
"A Doctorate in Cake Icing": Gendered Cake Toppers for the Feminine Graduate
On celebrating my PhD graduation and sighing over gender tropes
From now on, please address me as Dr. Penknife. After seven long years (.5 of which was spent on maternity leave and another 1.5 of it turned into a leave of absence during the global pandemic as I pivoted to being a stay-at-home-mom-homeschool-teacher-food-scholar-in-limbo), I am graduating with my PhD in American Studies from the University of North Carolina at Chapel Hill. There's a lot to unpack there (you can read my piece on trying to maintain my food scholar identity during that forced leave over on Gastronomica), but for now, we celebrate…with cake!
Earlier this week, I read a brilliant historical deep dive on "Wedding Cake Toppers: Miniatures, Excess, and Fantasy" by Kendall DeBoer and oooh-ed and ughh-ed over the fantastically problematic cake toppers featured throughout. Curiosity piqued, I headed to Etsy to see what was available for graduation cakes. And though graduations, referring mostly to those at the secondary education level, do not carry the same exact gendered baggage as matrimony, the milestone is not devoid of stereotype. The query "vintage graduation cake toppers" yielded several entries that looked like this:
There were cake toppers with women, too, though there were some differences.
Noticeably, despite my catch-all query, there were no cake-toppers-of-color entries. Not even a single one amongst the batch of toppers collected from multiple decades (seen above). There were, however, several genderless (maybe?) owls.
While I expected a gendered division based on robe color, there were listings for both men and women in white. That said, there were more women graduate cake toppers decked out in head-to-toe white regalia.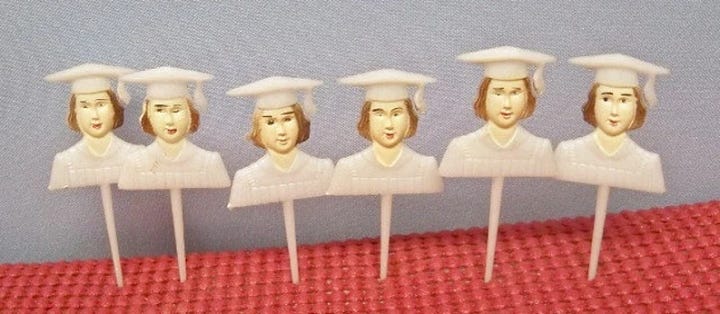 You might think: white is just another school color, it's neutral, even. Or maybe you wore white to your own graduation. Sure, those are all acceptable thoughts, but they still don't account for the gendered skew in white-hued cake toppers or the even more blatant historical association between June brides and women graduates. In some cases, they appeared in the same newspaper article (in the Women's Section, of course).
For June grads who weren't getting married, the white regalia was certainly a nod towards their next expected milestone, which would inevitably be celebrated by an elaborate layer cake. Wedding or graduation, the air was "filled with romance and freedom" and copious amounts of buttercream. I'm still completely baffled that no one thought to create a changeable women graduate cake topper that, with a few deft swaps, could be restyled as a bride.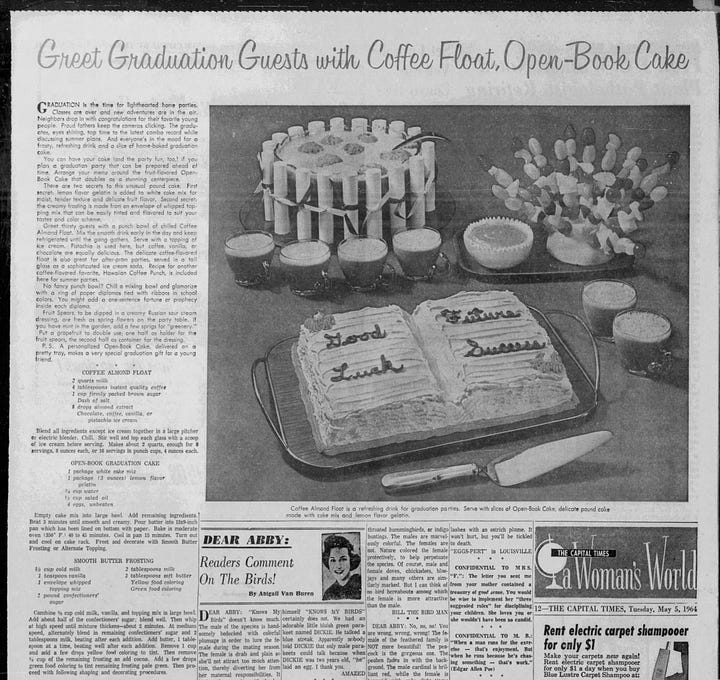 The "smart feminine graduate" knew that nothing was more alluring to a potential husband than a "pretty figure in cap and gown" (a notoriously sexy garment) and a layer cake.
Now, I know you're probably wondering: what will your graduation cake topper be, Dr. Penknife? Well, seeing as I am a married, mother-of-two, doctoral graduate, I'm afraid my topper options are quite slim. Once again, this would be a great time for a changeable cake topper, but I'm afraid society can't fathom someone being all those things at once, so I guess I'll go with the owls.
---
Pairs well with:
The perfect gift for the smart, baking graduate, regardless of gender or marital status: More Than Cake: 100 Baking Recipes Built for Pleasure and Community by Natasha Pickowicz (follow her and all her amazing community care work here).
---
PENKNIFE 🍓 is a reader-supported publication. To receive new posts and support my work, consider becoming a free or paid subscriber.