Discover more from penknife
Where the mighty hungry come for research, recipes, and bite-sized bits of food history.
It's a Cranberry Miracle!
A family Thanksgiving recipe and other weird uses for cranberries
To everyone looking for help with last minute Thanksgiving dinner prep, this post won't help you. Now, if you're looking for something to distract you from your holiday planning (and hand-wringing), you've come to the right place. So let's talk about cranberries and the weird food-adjacent things we do with them!
Long used by Indigenous groups for sustenance and dye and once explored by early 20th century scientists as a useful wax substitute and emulsifying agent, the cranberry is an important part of American culture and foodways. With it's long history, there are many ways to honor this native plant and celebrate its annual late fall harvest. Some people hang strands of cranberries to decorate their Christmas trees. Others fill oversized vases with water and votives surrounded by a crimson mass of floating cranberries (a classy move on any holiday table). And then there's others who go one step further and make candles made of cranberries.
Thanks for reading penknife! Subscribe for free to receive new posts and support my work.
This trend started in 1957 after multiple cranberry growers conglomerated and rebranded together as Ocean Spray. That year, the company placed newspaper ads instructing holiday planners on how to make "cranberry candles" with whole tins of cranberry jelly and flameless-wicks made out of orange peel.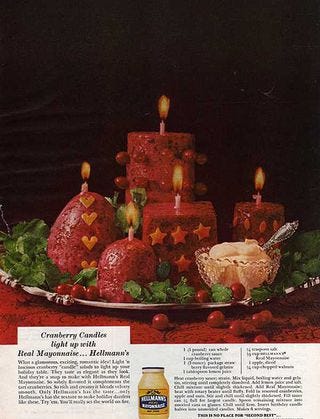 Around this same time, the nation experienced an aspic craze and Big Mayo was living large off the jiggle mania. In the 1960s, popular mayo brand Hellmann's commissioned Helen McCully, food editor of McCall's Magazine, to write a cookbooklet called "The French Have a Word for It: Mayonnaise," which further glamorized the condiment and the brand. And what could be more glamorous for the holiday table than a cranberry aspic candle with a mayonnaise-fueled wick? Absolutely nothing and I'm sure you can't argue otherwise.
It was through this process of doing food history research that I realized that my own family recipe for cranberry sauce, which we call *cranberry miracle*, is incredibly similar to the recipe for Hellmann's cranberry candles. I figured this out after making my own cranberry candles (see TikTok below). My family recipe doesn't include mayonnaise, but, perhaps, therein lies the miracle.
Tiktok failed to load.
Enable 3rd party cookies or use another browser
Wishing you and yours a happy holiday week however you celebrate. And if you're still looking for a good cranberry sauce miracle, please consider my family recipe (with some personal updates) below.
Cranberry
Sauce
Miracle
makes A LOT (or maybe just a personal serving if you're really into cranberries)
1 12-oz. package of fresh whole cranberries (freeze thoroughly before assembling)
1 medium apple, cored and thickly sliced
1 medium orange, peeled and extra pith removed
1 cup pecans, chopped (it's all gonna get blended, don't be precious here)
1 14-oz. can crushed pineapple (don't use heavy syrup, this isn't dessert)
1 3-oz. package strawberry Jell-O
1 3-oz. package lemon Jell-O
sugar to taste (seriously, it doesn't need extra sugar)
In a blender or food processor, process cranberries, apple, and orange until all the bits are roughly the size of pickle relish. Transfer to a large bowl.
Process the pecans until the nuts are uniform small pieces. Add this to the bowl, too. Add the pineapple (with the liquid) and gently stir to combine.
Sprinkle the Jell-O over the bowl and stir again to thoroughly combine. Cover and refrigerate for 3 hours or overnight or until you just can't stand it. Resting allows the gelatin structures to set with the liquid from the fruits creating a loose sauce consistency. Thus the miracle. A random cranberry or two will inevitably remain whole and become a sour surprise when least expected.
---
Pairs well with:
Truly abandon your Thanksgiving to-do list with an amble through the Smithsonian Thanksgiving Food History webpage and digital archive curated collection. Click on any of the images in the collection and get lost reading their accompanying finding aid guides and then immediately click on another and then another! Thanksgiving lunch will swiftly turn into dinner, but you'll be able to beguile your friends and fam with so many food history facts!
---
Thanks for reading penknife! Subscribe for free to receive new posts and support my work.