Discover more from penknife
Where the mighty hungry come for research, recipes, and bite-sized bits of food history.
Spooky food season is upon us! Two years ago I set out to share the histories of several famous, and rather infamous, Halloween foods over on TikTok resulting in a series called "spooky food histories." For those of you new to TikTok, it is an academic's worst nightmare with its lack of adequate time and space for the delivery of thorough scholarly context and its unabashed ignorance of citational practice (it's a social media app, y'all). So while my #spookyfoodhistory TikToks were cute and well edited, they barely covered the basics of these scary Halloween snacks. So grab that nearly-eaten bag of Halloween candy you said you'd save "for the trick-or-treaters" and circle round…
American Meat Packers and the Weeny Witches
Do you remember the New Year's lemon pigs that went around the internet a few years ago? Well, this is their weird older cousin, the Weeny Witch. The earliest record of the Weeny Witch is from the 1940s. Here are a few other important events that happened around the same time:
Between these specific, but broadly important events in addition to the nationwide meat rations of WW2, the processed meat industry found themselves with an incredible amount of power over a critical corner of the American consumer market. Additionally, and this is pure Food Scholar Speculation™, these processed meat companies were shaking in their boots after another powerful industry elbowed their way into American hearts (and wallets): enter Big Candy.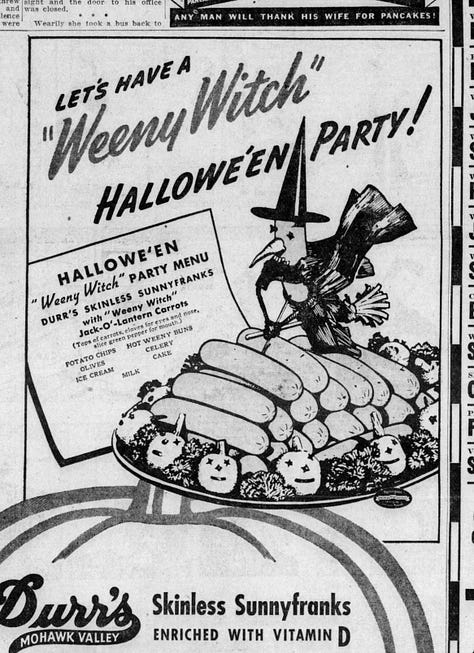 The nation's leading meat packers joined forces to make a "safe and sane" version of Halloween by creating the Weeny Witch party. For decades, Weeny Witch party booklets with instructions, recipes, and decoration ideas were tucked into packages of hot dogs. And the centerpiece of the party was a hotdog dressed up...like a witch.
So next time someone (perhaps a virgin from Hollywood) tells you that Halloween was invited by the candy companies and is just a bunch of Hocus Pocus, warn them about the Weeny Witches (we'll talk about the dangers of mayo-flamed cranberry candles closer to Thanksgiving).
General Mills Monster Cereals and Consumer Psyches
Breakfast monopoly General Mills introduced their iconic line of monster cereals, including Count Chocula, Franken Berry, Boo Berry, Fruit Brute, and Fruity Yummy Mummy, in the early 1970s.
As evidenced by folklore, oral histories, and popular media from cultures across the world, humans have always been obsessed with the idea of monsters. While monster-lore is a consistent theme across humanity, individual monsters waxed and waned in popularity decade by decade. Importantly, how we humans interpret and relate to the monsters—ex: Nosferatu vs Edward Cullen vs. Sesame Street's Count von Count—evolved over time.
Scholars believe that monsters are our fears in physical form, and these monsters have weaknesses that we can exploit (thus helping us to overcome our fears). Big Cereal capitalized on this aspect of the human psyche and allowed us to revel in campy monster imagery by eating those fears, too.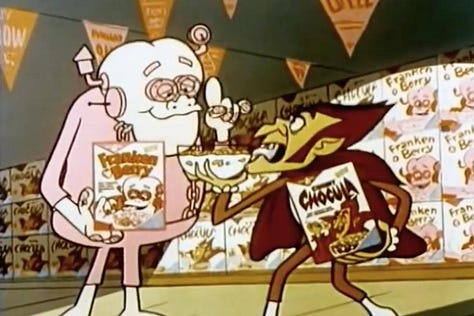 Delving into the Frankenstein story, both the author Mary Shelley and the monster have ties to the nineteenth-century vegetarianism craze. Frankenstein's monster is portrayed as a vegetarian, subsisting on "acorns and berries" despite the whole monster thing. Author Mary Shelley adopted this diet along with her husband Percy who wrote the then-radical text, A Vindication of Natural Diet (one of the earliest English texts advocating vegetarianism), in 1813. In the mid-1800s, the vegetarian diet was also associated with Romanticism as well as a tenet of some early feminist philosophies. Thus, it makes absolute sense that Frankenstein would represent a strawberry-based vegetarian-friendly cereal.
But wait! There's another spooky twist. The first recipe for Franken Berry cereal included an inedible dye that turned some consumers' poop pink and had to be reformulated shortly after it was launched. The too-terrifying history of food dyes will have to wait for another time.
Anthropomorphic Raisins (from hell! jkjk)
Now for the spookiest food of all: RAISINS!
Obviously raisins aren't really spooky (except for the fact that they're effectively grape zombies or rather mummified grapes). However, the American cultural connotations built around raisins and Halloween and the houses that hand out little boxes of raisins in lieu of candy makes for a delightfully scary story.
Raisins, aka Nature's Candy, have been around for a long time (historical fact). In fact, raisins were part of an early-Halloween food known as soul cakes. In Europe and Great Britain, these little spiced cakes were stamped with a cross and left outside homes or given away on All Souls' Day to ward off evil spirits.
Early twentieth-century Halloween festivities celebrated in the United States included homemade treats (like popcorn balls) and seasonal fruits, which included raisins.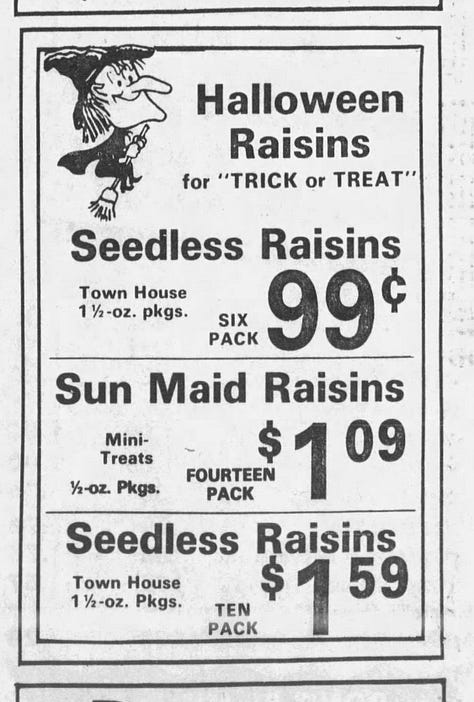 Today, according to pollsters and news outlets everywhere, raisins consistently rank in the top worst Halloween treats. In 2021, Sun-Maid leaned into the stigma with a Halloween campaign featuring a real-life Haunted Raisin House in Merchantville, New Jersey. So when did handing out raisins at Halloween become a common practice and how did we collectively learn to hate it?
I've done a lot of digging and can't find a clear connection between a specific raisin company and a blatant PR push, but like any other poorly branded food, it's clear that Big Raisin made a marketing push every few decades in an effort to make raisins popular (much like Sun-Maid did just recently). The most significant push came in the 1980s with the invention of the terrifying anthropomorphic California Raisins, which supposedly inspired children to dress as raisins for Halloween (honestly that's really the spookiest part of this history because the raisin characters capitalized on Black culture, and had vague minstrelsy vibes). SO, while raisins aren't really that bad, perhaps we still can't stomach them because of their previous spooky (and problematic) brand image. But mostly, and importantly, because they're just not candy.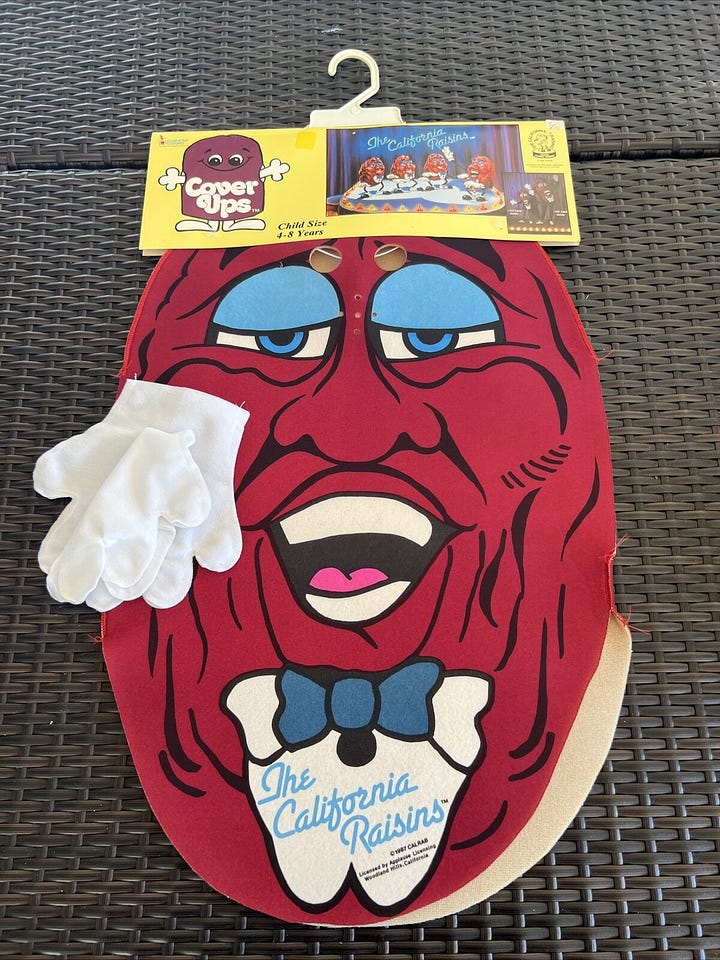 If you're too hyped up from eating all those raisins and need to consume this information in a less wordy format, you can find snack-size versions of these spooky food histories over on my TikTok!
And here's a bonus TikTok on the agropolitics of candy corn and mellowcreme pumpkins!
Tiktok failed to load.
Enable 3rd party cookies or use another browser
---
Pairs well with:
Keep spooky food season going with the latest Indestructible Food Hallo-zine! from Sarah Dudek, artist and creator of the Indestructible Food illustrated series. Full disclosure, I'm not only friends with Sarah, but also a superfan with several of her illustrations hanging on my office walls! Grab a copy of her zine to learn all the frightening details behind spooky foods such as Deviled Ham, Pez, and Reese's Pumpkins!
---