Discover more from penknife
Where the mighty hungry come for research, recipes, and bite-sized bits of food history.
The Evolution of the American Flag Cake
life, liberty, and the pursuit of patriotic buttercream piping
"Who in this patriotic country could let George and Martha Washington melt in their mouths and swallow a U.S. flag without feeling a swelling of national impulses." The Grenada Sentinel, Saturday, March 2, 1907
I might get (American) pied in the face for this, but Ina Garten did not invent the American flag cake. And the star-spangled bake has been the centerpiece of Fourth of July picnics and other random patriotic holidays long before boxed cake mix and store-bought whipped cream made it the go-to, quick and easy cake of the season.
Since today is about leisurely patriotism (and, let's be honest, day drinking), today's post is largely visual. So grab a can of [future penknife sponsor's name here] and get ready to scroll through the evolution of the American Flag cake.
---
One of the earliest mentions of American Flag cake I could find was from 1887 when Jennie Tims arrived home from Europe and was greeted with a welcoming party and a "grand spread" of American-themed eats including, importantly, potatoes.
By the late nineteenth-century, flag cakes of various types were common and desirable enough for local bakeries to market them in newspaper advertisements. And not just for the Fourth of July, but for other occasions throughout the calendar year, too.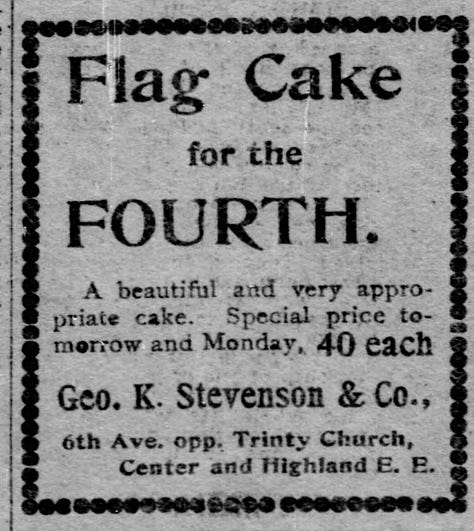 This absolutely overthetop recipe for Ice Cream Forts published in the July 2, 1911 issue of The Inter Ocean (Chicago, IL) states that "flag cakes can be purchased in most places at this time of year" and tells you how to make them just in case your local bakery didn't stock them.
Flag cake was the perfect centerpiece for holidays like Washington's and Lincoln's birthdays in February, Flag Day in mid-July, but also for naturalization ceremonies, DAR (Daughters of the American Revolution) meetings (yikes!), and even the random birthday that happened to land somewhere nearish any of these patriotic occasions.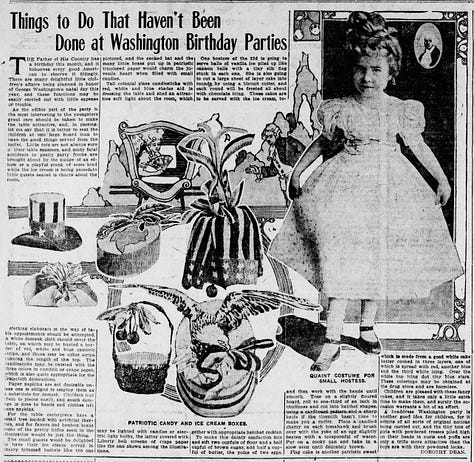 Not only were poor little Kathleen and Peter forced to share a birthday with each other, they had to cede their entire cake to America (as if she hadn't already had enough birthdays by the 1960s).
Ironically, at the beginning of the twentieth-century, the DAR association of Michigan made a half-hearted attempt to cancel flag cakes, claiming them to be unpatriotic.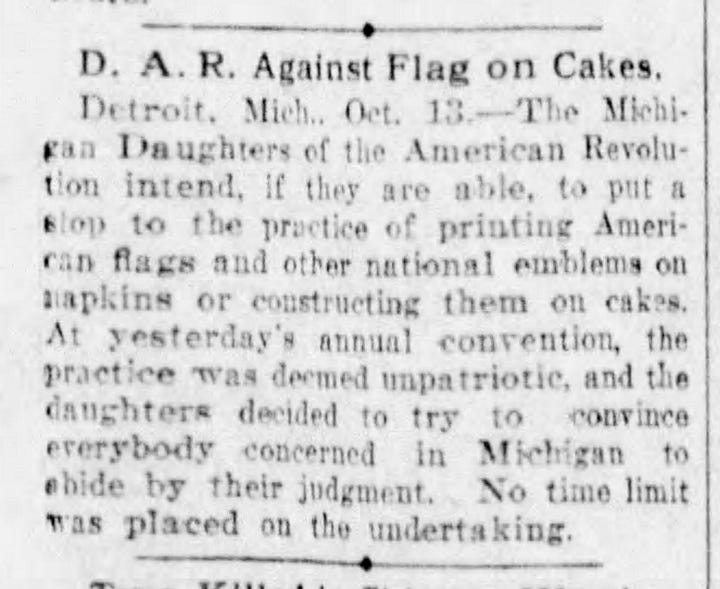 The flag cake ban clearly didn't last long. Good job following directions, Connie, Mae, and Margaret, gah.
These earliest references didn't include many helpful descriptions of how the cake was decorated or baked. At the turn of the twentieth-century, newspapers started to publish better instructions and even full recipes, such as this clipping from 1903 calling for pound cake, white icing, and chocolate stripes.
Bucking our now-traditional berry combo, early iterations of the flag cake utilized all types of decorations to achieve the iconic red, white, and blue design, including things like jellied cranberry cut into shapes, red and blue fruits, jams, sugared flowers, and artificial and natural food dyes such as cochineal and beet juice for bright red stripes.
I especially enjoy the various takes on the stars. Some bakers go all in and make one big star, others go for an early colonial version of the flag with the reasonable thirteen stars in a circle representing the original colonies. My favorites, however, are the cakes with the smattering of dots that give just enough of stars-vibe to work (especially after a day buzz).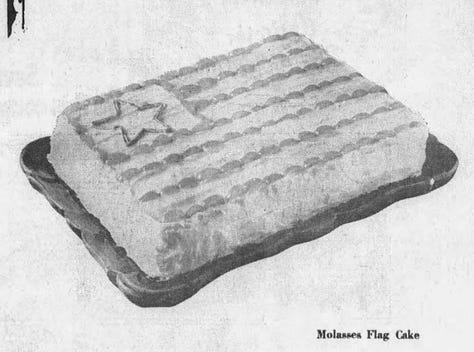 Sizes varied, too. There were individual flag cakes like those featured in the February 1914 issue of Good Housekeeping. Others were, well, American-sized. In 1980, the Citizen Register from Ossining, NY, reported on a "red, white and blue American flag cake weighing 19,000 pounds" and raised $12,000 for charity.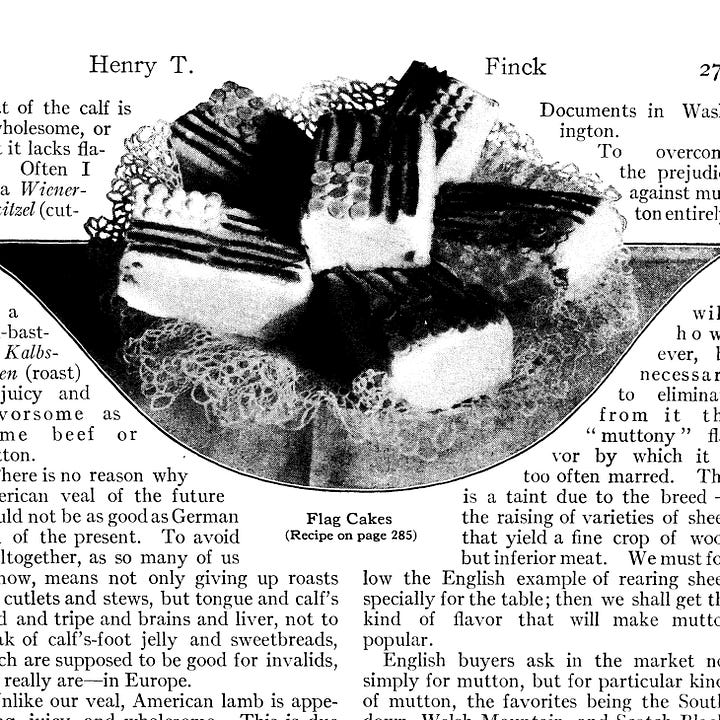 Despite its long history and the deftness with which we justify making flag cakes for pretty much any occasion (looking at you Kathleen and Peter's mom), it's hard to beat the now classic strawberries-and-blueberries spangled whipped cream cake. If anyone gets credit for popularizing this modern version, it's the Cool Whip marketing team.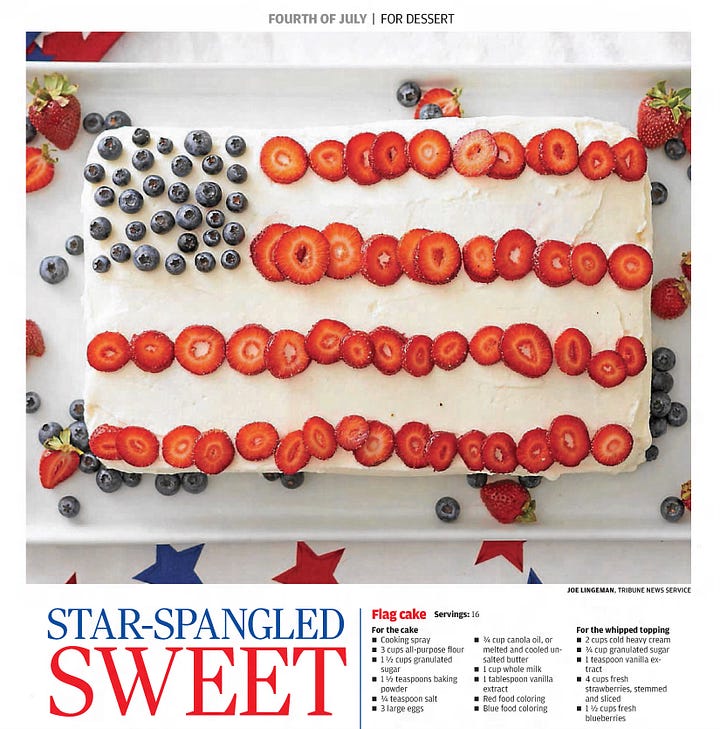 ---
Pairs well with:
Now that you've had your fill of flag cake, dive into the history of American through pies in Sweet Land of Liberty by the brilliant baker and writer Rossi Anastopoulo. You can learn more about Rossi and see her perfectly baked baked goods over on her Instagram, too.
---
PENKNIFE 🍓 is a reader-supported publication. To receive new posts and support my work, consider becoming a free or paid subscriber.